With my darling kiddos sucking out much of my energy and brainpower, I decided I would just search for some good Pride and Prejudice funnies to share. After all, Jane Austen's works have quite humorous lines in them, so why not fall in line with that humor?
The best things I saw weren't the simple Q and A sort of joke I was trying to find, but I decided to go with it by embedding what I found. And here are the ten eleven funniest Twitter/Tumblr posts that I came across!
Lady Catherine de Bourgh: Miss Bennet, are you engaged to Mr. Darcy?!

Elizabeth: pic.twitter.com/wnpuDI1tOD

— SparkNotes (@SparkNotes) August 14, 2019
Darcy when Elizabeth rejects his first proposal pic.twitter.com/Rz96mzwxJY

— SparkNotes (@SparkNotes) March 27, 2019
And here's a lame one created by yours truly: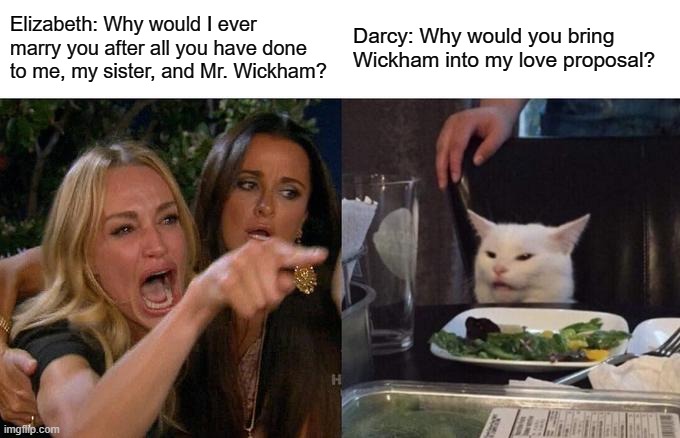 What are the funniest memes or jokes that you have come across related to either Pride and Prejudice or Jane Austen? What was your favorite out of the above? I think mine is the first one! Cracks me up every time.